This #Christmas @LostVoiceGuy is back to entertain us on @ITV with a festive & funny hr

'Christmas Comedy Club' is hosted by the man himself & stars @joeldommett, @omid9, @josierones & @BillBailey

#ChristmasEve at 10.30pm #ITV 📺🎄
#MissItMissOut
Look Mam, I'm in the Christmas TV Times! 🎄🎅
Delighted to be bringing you this superb line up of comedians on @itv on Christmas Eve!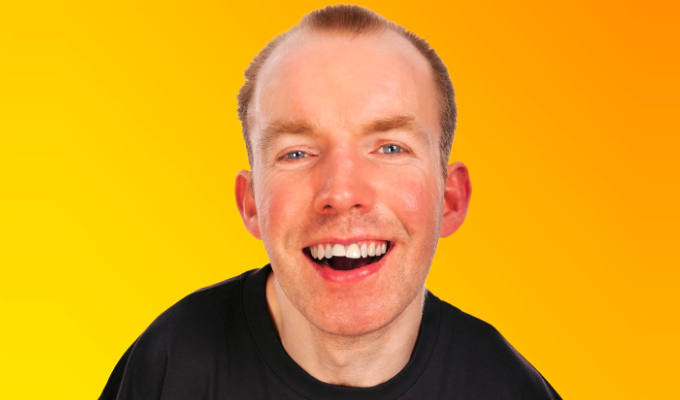 Chortle Comedy
@chortle
Who's on Lost Voice Guy's Christmas Comedy Club? | ITV reveals line-up https://zpr.io/CuixF4W6atJq
Looking fwd to @BBCRadio4's 'Fred at The Stand' on 9th Dec at 11pm

Headliner @LostVoiceGuy et al perform with @fredmacaulay at @StandNewcastle. The closest thing your ears will get to a night out in a #comedyclub, from the comfort of your own home

#comedy #LVG #LostVoiceGuy
A blistering video from American A&E doctor, @andrewmeyerson, who works in our NHS!

Watch him spell out why the Health Bill is so dangerous, & the horrors ahead if we don't stop it.

RT & tag your MP!

Follow us & email your MP at: http://yournhsneedsyou.com

Please support this great new campaign!
Find out how you can help at: http://yournhsneedsyou.com
Follow @YourNHS2021 and help save our precious NHS from the privatising Health Bill!
#YourNHSNeedsYou
#ScrapTheBill
Following the success of his sell out 2019 UK tour, the hilarious Geordie comic @LostVoiceGuy is heading back out on the road to put a smile on the faces of people up and down the country.

Got your tickets yet?

📅 Sat 28 May 2022
🎟 Book now: http://bit.ly/TTAOHlvg
In awe of how much of an entertainer @FatboySlim still is! Never fails to disappoint. Superb show in Glasgow this evening!
ON SALE NOW: @LeicsComedyFest presents the first-ever The Great Big Comedy Show at #DeMontfortHall on Wednesday 16 February 2022. Tickets here ➡️ https://bit.ly/GreatBigComedyShow-DMH

#LeicesterComedyFestival #Comedy #Leicester @Halcruttenden @sikisacomedy @LostVoiceGuy @amateuradam
I need your Christmas confessions for Lost Voice Guy's Christmas Comedy Club on @ITV ! For your chance to win priority tickets, send your confessions to seb@distantvoicesgroup.com.
Might have used the photo from my 'I'm Only In It For The Parking' tour on my new disabled parking badge… 😂😂
Super excited to be hosting ITV comedy showcase on Christmas Eve! http://www.chortle.co.uk/news/2021/11/09/49605/lost_voice_guy_to_host_itv_comedy_showcase#.YY-6X5MJKps.twitter
.@SophieDukebox's round on Women in the latest episode of #QuestionTeam was a heady blend of chaos, and also stuff you should absolutely know. Catch up on UKTV Play, with host @RichardAyoade, and fellow guests @JohnnyVegasReal, @rachelparris and @LostVoiceGuy!
Tonight in brand new #QuestionTeam @RichardAyoade plays host to @sophiedukebox @rachelparris and @JohnnyVegasReal with special guest @LostVoiceGuy! Turn your TV boxes to Dave at 10pm.
Went to see @OfficialSteps tonight. I'm not even sorry! #guiltypleasure
This Saturday at @RoyalGeorgeSadd with Mrs @BarbaraNice and @LostVoiceGuy to name just two!

#Saddleworth #Oldham #mossley #Stalybridge #tameside #BGT
Fancy some comedy fireworks?! 🎆🎇🧨 What a line up!
DARWEN COMEDY CLUB 📅 SATURDAY 6 NOVEMBER 2021
Tickets in advance just £12.50 (We've got to be kidding...right?)
🎟👉 https://bit.ly/3b67rkp

@justinmoorhouse @SimonWozniak @Daisyearlcomedy @LostVoiceGuy
Load More...
Look Mam, I'm in the Christmas TV Times! 🎄🎅

Make sure you tune in on Christmas Eve on ITV 1 at 10.30pm! ... See MoreSee Less
Yes, it's on Christmas Eve on ITV 1 at 10.30pm!
Ho good that's fantastic babes will definitely be watching it congratulations to you to merry Christmas sweetie hope you have a fantastic day and happy new year love dawnie xx
You are an inspiration! Couldn't believe it when you won Britain's got talent! So much deserved. How was it performing for the Queen ? What an honour that must have been. Please come to the Grimsby auditorium one day please and perform there. x
Prime time my man whilst everyone is wrapping presents they should have done weeks ago!!! Amazing!! 👏👏👏
Oh Lee that is Fantastic!! I am so pleased for you. You were the last act my mum voted for before she passed away and was so pleased you won. Keep up the fantast work Superstar!!!! ⭐X
Ooh amazing!!! What day and channel is it on please? We don't want to miss it! You're amazing! X
What a quality spot you've gotten Lee! An hour long where Spitting Image only got half an hour and perfect tv viewing time for people the night before Xmas. Delighted for you mate, you've done brilliantly for yourself! I thought you were from Newcastle for some reason rather than Consett so I was gonna say congratulations from a Smoggy to a Geordie but I can't say that now haha. Congratulations anyway dude! Every time I rewatch the moment when Dec announces you're the winner of BGT my heart absolutely soars. I don't think I've ever seen a more contagious and infectious or happier smile and I was so delighted for you!
Looking forward to it…. More so because I was supposed to see you live two weeks ago, and you were cancelled 2 days before (the reason given was to record this show)! I was gutted.
Congratulations prime time everyone up getting merry & ready for 🎅
Fantastic really pleased for you that's a good slot in Christmas Eve , Happy Days
Nice one Lee. At least its not another offering of "sound of music" and on at a sensible time.
Cody, Jack can we watch this please after home alone. Xxxx
Looking forward to this thank you!!
Omg is the Christmas TV mags out. I work in co op and not seen them yet.... always love looking threw them...x
Need to know what day & channel it will be on so we don't miss it!! 😍
Wow well done lee as a fellow person with cp I'm really proud of what you've achieved I bet your mam is chuffed xx
I be asleep waiting for santa . Have to catch up 😄
Fab! And good for you! Xx
Ohh thank you. I have to watch this.. 🙂 xx
Well deserved and duely noted for recording
Will definitely record it. Xmas eve on ITV, that's some accolade Lee. Well done mate
Tristrian Macdonald dylan will love this!! Xmas eve 😁 xxx
Delighted to be bringing you this superb line up of comedians on
ITV on Christmas Eve!

www.chortle.co.uk/news/2021/12/02/49758/whos_on_lost_voice_guys_christmas_comedy_club%3F ... See MoreSee Less
I need your Christmas confessions for Lost Voice Guy's Christmas Comedy Club on ITV! For your chance to win priority tickets, send your confessions to seb@distantvoicesgroup.com.

And remember to watch on ITV at 10pm on Christmas Eve! ... See MoreSee Less
Every year my wife looks forward to my nut loaf (oo-er) for Xmas dinner but she loves it so much she won't let me cook it the rest of the year. Doesn't want it to not be special. Because it's so long between cooking it I have no idea what the recipe is so each year I make it up, meaning it's never the same meal. Luckily it's been so long between the last time my wife ate it she doesn't notice. So I get super brownie points. At least until I get it so wrong it's disgusting. Gulp!
One year on boxing day when I was 12. Mom had put the rest of the turkey from Christmas day aside. The plan was to make a traditional turkey curry with it. She set it ontop of a grill on a plastic tray. This was one of those old fashioned ovens that had an over head grill... Anyway I didn't realise it was ontop of the grill and went about making my boxing day toast... safe to say mom was not impressed when she went to make her curry and found turkey infused with plastic. 😂😂 I'm sorry mom Zena Cleary
only thing i wish for for Christmas is a Dvd, that i can buy in The Netherlands with your performances and to be honost 1 or more dvd's wpuld be great so people from all over the world can enjoy your special humor, i really love it anyway before i forget it i wish you you're family a very happy Christmas and all the best for 2022, deep respect for what you do be safe fan for life from The Netherlands cheers
Got so drunk my cerebral palsy was cured and I started a conversation with the cat... I ended up wearing the meal... then we split up lol...
My mom used to batch precook Christmas puddings in readiness for some of the family plus our Christmas Day pudding. Except the year that she missed pre-cooking the one that she served up for our Christmas Day🤣pudding🤣 Then there was the time that she dressed the Christmas Day turkey with smoked bacon before it went into the oven 🤣🦃🥓🚭🤣 Gemma Harris Sophie Nicholls
I once got so drunk on Christmas Eve when they served Christmas dinner up I promptly vomited!
Might have used the photo from my 'I'm Only In It For The Parking' tour on my new disabled parking badge… 😂😂 ... See MoreSee Less
Quality Lee, I did wonder if you had any other t-shirts or are they all blue?
I cheated too and used a Snapchat filter photo on mine so I didn't look so awful 🤣🤣
My badge looks like I just escaped prison. Thought you weren't allowed to smile in passport photos!?!
Working smarter not harder 😁👏😆
Brilliant recycling 🤣 oh by the way, I wish I was as energetic as my emoji 🤣🤣🤣
Met you in Lytham fab act
You sir are a legend, well played 👏
Its ok if you display it properly it will never be seen lol Its a nice picture.
They turned a photo down for mine where I was smiling! Had to send a miserable one!!
I know that man police please haha x
Definitely an inspiration to others
Your amazing funny and just ausome dude 🔥💯
Mine looks awful, next time I am going for a my cerebral palsy has been cured pose as an ode to the DWP assessment bullshit... I could end up looking like a constipated Yoda! Proof that Cerebral palsy doesn't leave you during your life however my you keep your humour... my Mrs loves the fact I wake up stiff each morning...shame its my legs... masturbation is a whole new kettle of fish mind you... hands like an Audi driver gripping a steering wheel!🤣
Are you coming to Ipswich anytime soon ?
Super excited to be hosting my very own ITV comedy showcase on Christmas Eve! ... See MoreSee Less
Fantastic. So Pleased for you, not enough of you on tv , have you heard Emmon Holmes is going ? Vacancy to fill there
Well done Lee , can't wait to add it to my planner so I don't miss it
Well done lee. You so deserve this xxx❤️👏👏👏
This is amazing, looking forward to watching 🎉
Well done. Will look forward to this x
That's Awesome Lee Well done 😃👏👏👏
Awh thats brilliant news good luck will be watching 🙂
Hoping to find a way to watch it from Canada!
That's awesome!!….way to go!!!…will be watching you and rooting you on!!!…
Well let us know so can put it on our calenders xxxxx
Just booked for Dorking Halls!
Looking forward to that awesome 👍
That's awesome! Congratulations!X
Beyond excited for you. Can't wait to watch it xx
Half an hour until I'm back on your telly as a guest on Question Team! 10pm on Dave! ... See MoreSee Less
Lost Voice Guy, I read that as question time saw all the photos of the panellists and thought that could be interesting
Went to see @officialsteps tonight. I'm not even sorry! #guiltypleasure ... See MoreSee Less
I seen you tonight wanted to say hi but looked like a few people were so went back to my seat and went omg guess who I seen lol was a cracking show tonight
They were amazing weren't they . I was talking likeba woman who smoked 50 a day yesterday I was so croaky. Glad you enjoyed it x
Wonder if they are as good as us? Doing Something in Your Eyes in our local pantomime! Great song Steps 🤩💕 💃 👯‍♂️ Kirriemuir Panto 🎭
Hope you had a good night Lee can't beat a bit of steps 🙂
Wow! I hope you had a great time. I'm going to see Steps at Bournemouth on December 1st. Looks like you had a brilliant time
You don't have to be sorry Lee they're fab, they could show today's music a thing or 2 xx
We saw you last week in tamworth you were bloody.amazing xxx
I saw them last week in Nottingham for the first time!! Finally seen them live, and I'm not ashamed to admit I cried at times. Just amazing!!!
We're going on Thursday cannot wait!!
One of the best groups ever. Pity that I dont live in the UK. Hope I can watch them live in the near future 🙂
I was also at Newcastle's show last night, absolutely loved it!
I went last Tuesday. Nothing to be sorry for. They are awesome x
I'm not sorry either my guilty pleasure aswell
I see them at the end of the month!!! So excited
I going Thursday to see them x
Wait wait wait. Like the group from the 90s, featured on the Disney Channel??
Hi lost voice guy hope that you are safe and well,all the best from me and everyone from Peterlee county durham.i have been watching your first audition that you did on bgt,I needed a laugh and you were the person to bring a bit of laughter and a smile to me,you are so funny
Me too! I am seeing then 6 times but a home gig is always the best one! 😻💖👀
Had a great time in Dublin a few weeks ago! ... See MoreSee Less
Beautiful photos. Your book was amazing, many times I laughed out loud. Stay safe 🙏
Looks like you had an awesome time Lee x
Hi Lee your book arrived today, i live in The Netherlands btw, love your sence of humor keep up the work you make me laugh so hard, cheers from Holland
Delighted you enjoyed your time in my home town. 🇮🇪💕
I live in Dublin. Hope you had a great time 😊
Love this picture of you & my great niece Brooke ♥️♥️love from Anty Angela ♥️♥️
Well done I hope you enjoyed it
Had a flying visit there a few years ago, what struck me was how clean and fresh it looked, I will go back one day! 😎👍
It is on my list, mainly for the Guinness
One of my favourite places to be 🤩
In Dublin myself as we speak (sorry!) for my 50th birthday! It's a fantastic city, I have been coming here for years. So glad you enjoyed it!
Omg you look terrifying 😂😂😂
All I want for Christmas is ME! ... See MoreSee Less
You so deserve this lee. I'm thrilled for you. Can't wait to see your show ❤️. Well done xxx❤️❤️❤️
Brilliant! Definitely looking forward to that 👏👏👏🥳
Great news! Something new on the telly this year! Seen you a few times in Edinburgh.
Cant wait for this. Keep us updated with date and time please
Fantastic seen you in Edinburgh
Fantastic👏👏 well done to you
Wow Lee this is amazing news! Congrats! 🙂
Congratulations!!! Huge well done xxx
Nice I can't wait for this
From which one do we get tickets from? Would love to see this being recorded.
Good lad, looking forward to seeing this.
At last… something new and funny to watch at Christmas instead of the same repeats! Can't wait Lee and can't wait to see you next spring
Kellie Milano this will be fab x
Hopefully take the BTA of your fellow geordies Ant and Dec
Will look forward to this!!
The @standnewcastle always know how to make me feel special! 😂😂😂 ... See MoreSee Less
Is that the Wish version of you?
Did it leave you…speechless? 🤭
That's love. The Stand team don't make the effort to take the piss out of folk they don't like.
….what you order Lost Voice Guy from Wish 🤣
Maybe they thought it was temporary ?! 🤪
I have been thinking about this, perhaps you could sell franchises to tribute acts under the "No Voice Man" brand? You'd make a blinking fortune!! "I'm only in it for the parking and the franchise fees"
It's ok, they were expecting a tribute act
Jack Raine I noticed this when we were waiting for show to start 😂😂
lol no voice man sponsored by a microphone company - .... lol
You know you've made it when you get your own tribute act!
It could be your superhero name 😉
Wondering what your costume would look like
7/10 for effort but must do better 😉
They got one word correct. Credit where credit is due.
I saw you there around 2011
Have you got a shortcut for 'for f*** sake' on your keyboard? 😁 😎
Only one star? You should have at least five.
Are you stealing some copycat's dressing room? :-p
the buggers lol gotta laugh though int ya
Four letter words can be tricky lol
Only one star?!!! Shocking!
Load more